South African kitplane company The Airplane Factory (TAF) is getting ready to open a base in the UK at Gloucestershire Airport. They will sell TAF's two aircraft kits, the two-seat Sling 2 and four-seat Sling 4, provide spares and service and also be a 'Build Assist' facility.
In a separate move, TAF is working with Belgian company Sonaca Aircraft to build certified versions of the Sling 2 and 4.
TAF has been working with the Light Aircraft Association (LAA) which regulates home-built aircraft in the UK. The first British Sling 2 is under construction by LAA member Tim Hardy, who visited the South African factory and flew a demo aircraft last year."With regards LAA approval, we commenced with the process in December 2015, providing the LAA with a comprehensive documentation submission," said TAF's Mike Dawson. "This documentation review is expected to be completed shortly, thereafter a build inspection and flight test will be required. This process will be completed by September, when we will launch Sling at the 70th Anniversary LAA Rally at Sywell Airfield."
Gloucestershire Airport 'build assist'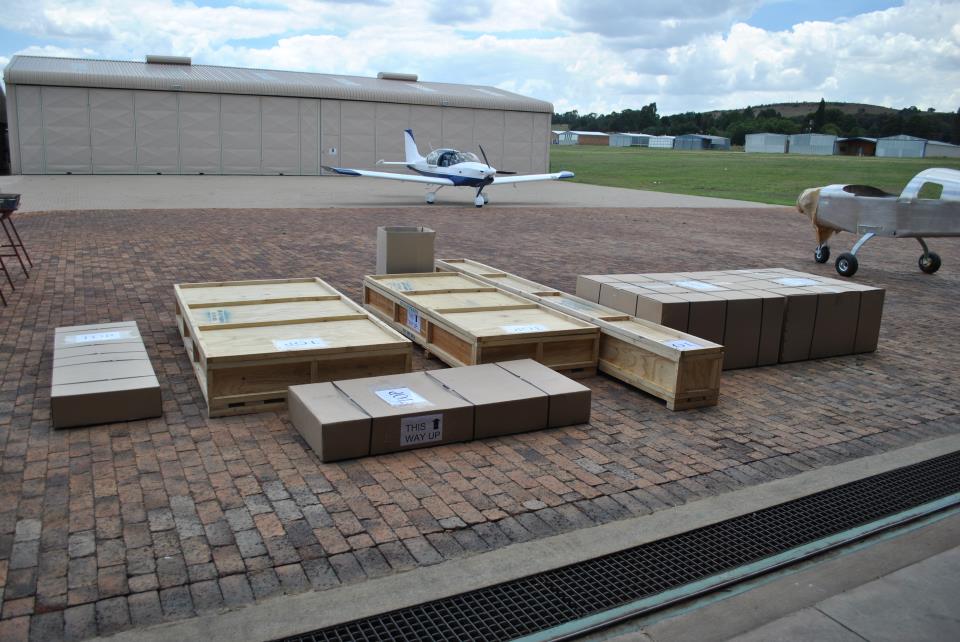 All these boxes! Would-be UK Sling kitplane builders will be able to work with factory assistance.
The Gloucester 'Build Assist' facility will enable owners to build their planes with production level jigs, fixtures and tooling provided. "Persons with no skills will be provided with the coaching to build their planes to the same quality standard as the planes built in the original production facility in South Africa," explained Mike.
"All administrative and regulatory processes such as build history dossiers, LAA inspections, etc, as well as painting will be taken care of, leaving the builder with an enjoyable build experience. We envisage decreasing the build time from the average of two to four years, to a mere six months, while still maintaining the 51% owner build criteria.
"Both the Sling 2 and 4 are all-metal aircraft, powered by Rotax engines. As with all kitplanes, there's a choice of avionics though TAF is currently fitting Garmin G3X EFIS, Garmin radio and Garmin transponders. TAF has flown its aircraft around the world three times, including one epic flight from Rio de Janeiro to Cape Town lasting 30 hours.
VISIT THE ORIGINAL ARTICLE ON FLYER.CO.UK HERE.